Expand Your Remodeling Options with Wood-Look Tile in Prairieville, LA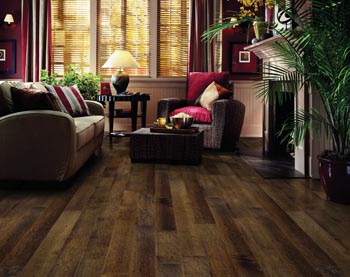 At Halpin's Flooring America, you have the power to create your ideal home. As your source for wood-look tile in Prairieville, LA, we are your all-in-one source for home flooring solutions. From our dazzling and expansive product catalog to industry-forward customer support, we make interior remodeling an easy and rewarding experience.
The Benefits of Wood-Look Flooring
Enjoy the beauty, strength, and resiliency of solid surface flooring. As its name suggests, wood plank porcelain tile and ceramic are flooring types which successfully emulate the appearance and texture of solid hardwood. Thanks to advances in manufacturing, tile flooring is available in a variety of nature-inspired designs, including the look of popular wood species like pine, oak, and spruce. Now, there is no need to make compromises between form and function.
Porcelain and ceramic tile are strong flooring materials, thanks to their dense composition and water-resistant surfaces. The physical properties of this flooring type mean that it will retain its shape, even when exposed to water. Wood plank ceramic and porcelain tile are so resilient that they can be installed in rooms that encounter moisture frequently, such as the kitchen, bathroom, and basement. They are also smart additions to high-traffic areas like hallways or the living room.
Porcelain and ceramic wood tile are tough on stains but gentle on homeowners. As solid surface flooring, this material repels water, dust, and dirt. In turn, this flooring is easy to clean and maintain. Because of this ease of maintenance, wood-look flooring has become a popular choice for active households.
Enjoy comfortable indoor temperatures all year long. Porcelain wood tile, and its ceramic counterpart have distinct heat retention and dispersal properties. During the warmer months, tile flooring remains cool to the touch. This aids in the ambient temperatures, which helps keep AC costs manageable.
Making Your Re-Flooring Project a Complete Success
Take advantage of our wide-ranging selection and design picture-perfect spaces. We are with you at each step. Our showroom has partnered with well-known manufacturers to offer a stunning variety of wood plank porcelain and ceramic tile. Feel free to find your favorites and create a space that you, your family, and guests will love. If you aren't sure where to begin, let us lend a hand. Our experienced and knowledgeable design consultants will work with you to plan out your remodeling project.
The strength, beauty, and longevity of your new flooring are dependent on a successful installation project. When it's time to move forward with your re-flooring plans, we're here to make sure everything goes right. We have an extensive network of professional contractors to complete your installation for you. With us supporting your project, you will attain eye-catching interiors that will last. Realize your ideas and arrange a consultation at our showroom today.

Contact us to learn more about our selection of wood-look tile. We are based in Baton Rouge, LA, and serve Painesville and the surrounding area.