Luxury Vinyl Tile in Prairieville, LA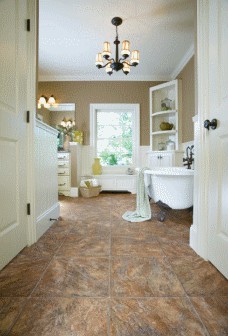 Is your beautiful home being brought down by old, worn-out floors? Maybe you're looking to replace your old floors or are just in the market for a new style. Whatever the case, our luxury vinyl floor tile is the perfect solution for anyone who wants to raise property value and create an upscale look for less. Luxury vinyl tile (LVT) is customizable and can be designed to resemble hardwood, stone, ceramic and tile for a fraction of the price. Our wide selection ensures that no matter what style, color, texture or material you have in mind, you're sure to find it here.
Our resilient flooring complements your design and makes your home more appealing. We only stock the most reputable and reliable brands that satisfy even the choosiest of homeowners. No matter what you buy, it will last a long time. Whether you're already set for installation or don't know where to start, we're here for you. Our service carries a no-obligation, free in-home measurement with estimates provided by our expert flooring professionals. This lets you know what your options are and establish a budget before committing to anything, whether for a single room or the entire house.
You also never have to worry about buying a product that looks great in the showroom, but doesn't work out in the space you have in mind. Our My Floor Style App lets you try it before you buy it. Download it on your phone or tablet to see exactly how the different styles of luxury vinyl plank flooring you choose look in any room of your home. You can also take home samples to see how a style looks against your furniture, decorations and paint. We help you bring all the elements of your design together for much less than you would pay elsewhere, so you can be completely satisfied with your floor and totally confident in your decision.
The Benefits of Resilient Flooring
Resilient flooring is the perfect choice for active households with pets or small children, because it holds up for even the busiest lifestyles. Some of its many benefits include:
Resists dents
Moisture resistant
Scuff & stain resistant
Flexible design options
Easy maintenance
This flooring is also environmentally friendly and made of recycled material, which gives your home cleaner air and lets those with asthma or allergies breathe easy. Your family, friends, guests and planet will thank you.
Prompt and Professional Luxury Vinyl Tile Installation
We stand by what we sell, and part of that is installing our products. The quality of the installation job is every bit as important as the quality of the product, which is why we strive to provide the best in both. When you've dedicated time and energy toward searching for the perfect luxury vinyl tile, you want to know that it's installed properly. Our team of technicians and skilled professionals can complete even the biggest luxury vinyl tile installation jobs quickly and efficiently. When you make an investment in us, we make sure it's a long-term one.
We're so confident in our installation service that almost all of our jobs are backed with guarantees and warranties that are unlike any other in the industry. Each and every customer that comes through our door receives the Ultimate Confidence Guarantee, which promises that if you are unhappy with any part of your floors, we'll take care of it. Just contact us within 30 days of the installation and we'll replace it with a comparable option for free.

Contact us to get started on your new floor today. We're proud to serve clients in Prairieville and Baton Rouge, Louisiana and surrounding communities.