The Best Laminate Selection in Prairieville, LA
Discover resilient, versatile flooring that will complement any decor in your home. Install laminate flooring from Halpin's Flooring America to give your space an all-new look and feel. When you visit our showroom in Prairieville, LA, you'll discover that upgrading your home with beautiful new laminate floors is easy with the help and support of our flooring experts. We proudly carry an impressive selection of laminate floors, so you don't have to settle for unimpressive flooring in your space. If your old floors look tired, renew your room with one of our high-quality laminate products. No matter what your specific interior design preferences are, we're confident the right flooring to meet your aesthetic desires and performance needs is beyond our doors!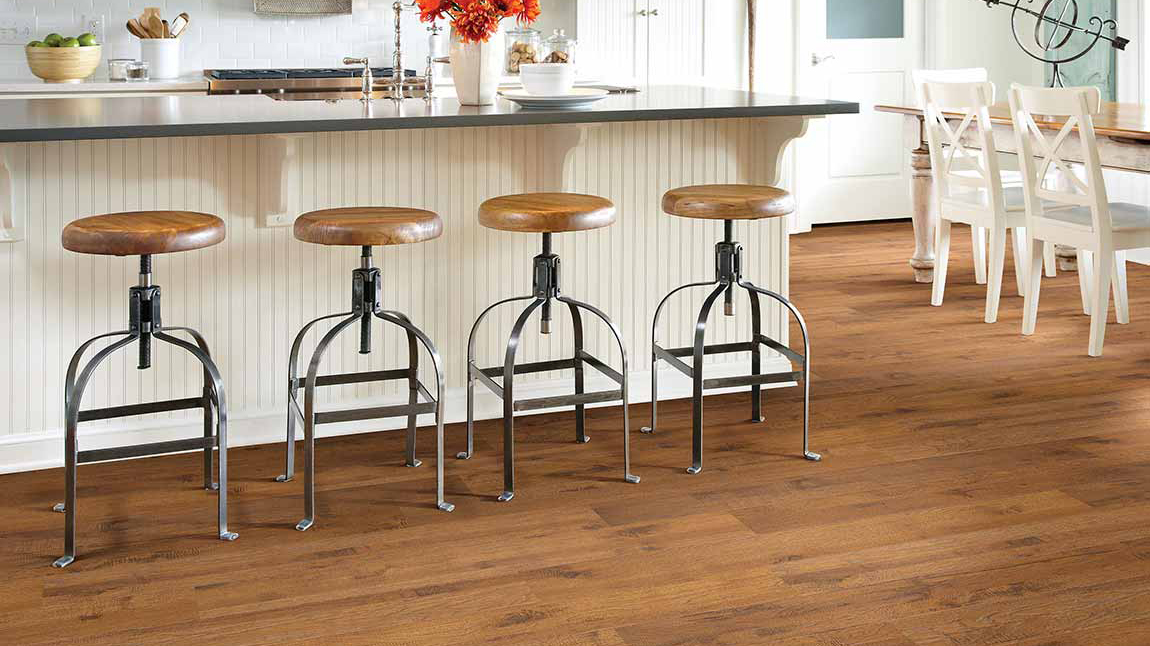 Our Laminate Selection
When considering which type of laminate may be the best for you and your home, it is important to understand the different types available in our showroom. Laminate flooring is manufactured using either high-pressure or direct-pressure methods. Under the direct-pressure method, all four layers are fused at once. This method produces the most affordable and common types of laminate flooring. The high-pressure method is similar, though the layers are fused one at a time and with higher amounts of weighted pressure and heat to produce the most durable forms of laminate. This method is ideal for commercial spaces. Learn more about our laminate flooring options:
Laminate Wood Flooring

: If you dream of beautiful oak floors, but your lifestyle and budget are incompatible, wood laminate flooring is the perfect substitute. This flooring combines the look and feel of natural wood with all the benefits of laminate flooring.

Laminate Tile Flooring:

While traditional tile flooring is an elegant addition to any project, many customers find tile laminate flooring better meets their budget and functional needs. Tile laminate is a popular choice for bathrooms, offering the tile aesthetic with a waterproof & scratch-proof seal.
Laminate's Many Benefits
Laminate flooring is one of the most durable. Not only will it look amazing in any room in your home, but it will also last many years. We only carry laminate flooring from the best brands and manufacturers, such as Floorcraft Maysville and Floorcraft Performance Flooring, so that our customers get the top-quality flooring that they will love. Laminate flooring is:
Protected by a tough exterior layer, making it

resistant to scratches, fading, water, stains

, and other accidents.

Easy to clean

and is hygienic.

Affordable

and less expensive than its high-end alternatives, hardwood, and tile, which it realistically mimics.

Comes in a variety of

styles and colors

to fit any home decor.

Easily installed

.
Keeping Your Laminate Clean
Keeping your laminate floors clean is easy! It is one of the most durable forms of flooring on the market for a reason! This is because the laminate requires very little upkeep and doesn't need to be refinished or touched up after years of use. Laminate is low maintenance and calls for a few simple steps to keep them looking fresh and brand new:
Clean up any spills or accidents as soon as possible.

Sweep or vacuum regularly to remove any dirt and dust.

Use a damp mop for a deeper clean with warm water and a mild detergent. Before purchasing any cleaning products, check your floor's warranty or ask our flooring experts for a recommendation!
Professional Laminate Flooring Installation
Depend on our experienced installers for complete laminate flooring installation. We make the job easy for you. There's no need to spend time looking for a qualified installer or doing the job yourself. Instead, take advantage of our service. Our team has the training, tools, and skills to correctly install your new laminate floor at your business or home. You'll find that we are thorough, friendly, and fast. If you are unhappy with your new floors, call us within 30 days of installation. We'll replace it with flooring of equal value. That is our Ultimate Confidence Guarantee! Enjoy fast, affordable, professional flooring installation that ensures your complete satisfaction.


Contact us to find out more about our laminate selection and installation services. We serve customers in Baton Rouge, Prairieville, Galvez, White Castle, and Sunshine, Louisiana.