Kitchen Remodeling in Prairieville, LA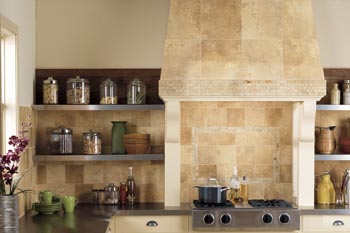 When it comes to kitchen remodeling, Halpin's Flooring America is your one-stop shop in Prairieville, Louisiana. Whether you're looking for a sleek and modern look, or a more rustic design, we have a gorgeous selection of kitchen backsplashes and countertops for any project. We always stay on top of the latest trends to continue delivering the best selections at prices you can afford.
Turn your kitchen into the heart of your home by renovating your space for easy and enjoyable food preparation, as well as a gathering place for family and friends. Visit our Prairieville, LA, showroom today to start your kitchen remodeling project with the help of our design specialists!
Discover Kitchen Backsplashes in Prairieville, Louisiana
Install kitchen backsplashes in your home for a welcome pop of color, a visually appealing design, and protection from splashes and spills. This design element keeps your kitchen tidy and appealing through long years of cooking and dishwashing.
Adding a backsplash is a little project that adds great impact to the look and function of your kitchen. Request a free pre-measure from our professionals so the proportions are exactly right for your stone or tile backsplash.
Types of Backsplashes Available for Your Kitchen Remodel
Ask our design and sales professionals about the different materials we use for backsplashes and the merits of each. Our experts have comprehensive knowledge of our products, as well as extensive training in design. We can help you come up with a stone backsplash design that complements the décor of your kitchen and offers easy cleaning and maintenance. You can rest assured that your project is in great hands when you depend on us. With our great selection, we're positive that our backsplashes will transform your kitchen.
Ceramic Tile Backsplashes
Easily the most popular backsplash material, tile resists water and stains so it is an ideal material to protect the wall behind your sink or stove, or even the length of space that is underneath your cabinets. Splashes and spills are inevitable when you cook. With easy-to-clean tile, you won't have to worry about food and liquids ruining your walls.
Ceramic tile backsplashes are incredibly diverse in style. Whether you want a simple tile backsplash or a lavish European design, we can make your kitchen show your personality. You can choose the tile's color, finish, size, cut, and installation pattern to accomplish your dream kitchen decor. Ask our professionals about a custom kitchen backsplash today!
Stone Tile Backsplashes
Do you have a favorite natural stone? This material may serve you well as a backsplash in your kitchen. After all, stone has a distinctive beauty that works well in any kitchen. It brings a timeless appeal to your space that is sure to stay attractive for years to come. Stone backsplashes instantly add value to your home because of their longevity. Whether you're looking to sell your house or just want it to look its best, our stone options are a perfect pick.
Marble Backsplashes
Place the focus on elegance when you install a marble backsplash in your kitchen. The veins, specks, and swirls make your marble backsplash unique and memorable. Complement your cabinets with this beautiful kitchen backsplash that is incredibly durable and stain resistant.
Local Kitchen Backsplash Installations with Our Experts
After choosing your perfect backsplash material, we'll go over the installation process and what to expect. Installing a backsplash requires precise work in a small space. This is why we recommend that you choose professional assistance. Our skilled backsplash installation specialists deliver top results each and every time. With our service, you'll have a handsome new backsplash that provides beauty and protection in your kitchen for many years. All you have to do is relax when you leave the backsplash installation to the professionals.
Find Kitchen Countertops in Prairieville, LA
At Halpin's Flooring America, we bring our Lousiana customers quality kitchen and bathroom countertop options. Further, we provide sales assistance, design help, and professional installation for all our countertops. These high-end materials turn your kitchen into a showroom as the individual beauty of stone is a coveted addition to any home. You need plenty of workspace for food preparation, cooking, and cleanup and stone counters allow you to do this in great style! Our experts are happy to share their extensive knowledge with you about the types, materials, and brands of kitchen countertops so you can make an informed decision.
Types of Countertops Available at Our Local Prairieville Store
Countertops serve both decorative and functional purposes, so it is wise to consider both when deciding which material suits your décor and lifestyle best. Are you seeking to elevate the appearance of this space? Then, marble is an excellent choice as this natural stone offers stunning beauty and adds to your property value. Do you need to have countertops that are easy to clean and maintain? Then opt for solid-surface counters, such as engineered quartz. The surface is one solid piece that does not have any holes or cracks that hide germs or bacteria.
We offer the following countertop surface materials for residential and commercial use:
Granite Countertops
Quartz Countertops
Marble Countertops
Granite Countertops
The glory of granite is unrivaled as this stone surface is prized for its unique beauty. As you would expect, countertops made from granite are strong and durable. They resist heat, fire, and bacteria, and clean up easily with a mild soap and water. Just adding granite countertops to your home sends your property value skyrocketing.
Granite is a heavy and dense stone marked by natural flecks and available in a number of appealing colors. As this surface material is quarried from the earth, each slab is different, which means your kitchen countertops are truly original.
Engineered Quartz Countertops
Improve your kitchen or bathroom's appeal with a quartz countertop installation. Manufacturers take this natural stone and enhance it, making it even more beautiful, as well as functional. Engineered quartz counters consist of 98 percent quartz with a little resin and pigment mixed in.
The enhancements make this countertop surface non-porous so you do not have to worry about stains or about bacteria or germs hiding beneath the surface. Quartz is a cost-effective countertop for the kitchen or bathroom. Our trusted brands of quartz include VICOSTONE™, Cambria™, and Viatera™ by LG Hausys.
Marble Countertops
The veining that swirls through each piece of marble creates striking countertops for your kitchen or bathroom. The distinctive beauty of this natural stone makes it a highly desirable countertop for your home due to its visual appeal. This cool-to-touch stone also increases the value of your property as soon as it is installed. In addition, marble is a softer stone so it is easier to cut fancy edges and unconventional shapes. Marble is a material that takes your countertops from ordinary to extraordinary. The sheer beauty of this natural stone makes working in your kitchen a delight, adding a satisfying elegance to your decorating scheme.
Professional Countertop Installations for Kitchens & Bathrooms
Once you choose a countertop material, let us schedule a professional installation. Our experienced professionals come to you with the professional tools and equipment for an efficient and stress-free installation process. Our countertop installers have the necessary experience for precise measurements and a slick installation that looks great and lasts. When you choose Halpin's Flooring America for a countertop installation, your kitchen will look and feel luxurious for years!
Offering Kitchen & Bathroom Sinks for a Complete Kitchen Remodel
In addition to countertops for the kitchen and bathroom, we also offer sinks. This is part of our store philosophy of making shopping enjoyable and convenient for our customers. Count on us for variety in sink sizes. We offer 18-gauge, stainless steel, under-mount sinks for the kitchen in options of 50/50, 70/30, or 60/40. For the bathroom, we provide small, oval, and under-mount sinks.
Full-Service Kitchen Remodeling at Halpin's Flooring America
Our sales and design professionals are happy to provide the information you need and answer any questions you may have. Rely on our whole staff to make kitchen or bathroom remodeling easy and enjoyable!

Contact us today to start your kitchen remodeling project! Our local business proudly serves residential and commercial customers in Baton Rouge, Prairieville, Galvez, White Castle, and Sunshine, Louisiana, including the surrounding areas.