Maximize the appeal of every room in your home and take any interior design plan to the next level with our selection of stunning hardwood flooring from Halpin's Flooring America. Our well-established, locally-owned flooring showroom in Prairieville, LA, is ready to be your source for design assistance and value-added home flooring. We offer a broad array of flooring products from some of the most trusted names in the flooring industry. Tell us more about the look you are trying to create, and we will help you find the type of hardwood flooring that makes the most sense for your space and design plan. Our showroom has various hardwood options, including solid, engineered, and hand-scraped wood floors. Take the first step toward achieving the hardwood flooring design of your dreams by visiting our local flooring store and browsing our sleek and smooth hardwood selection.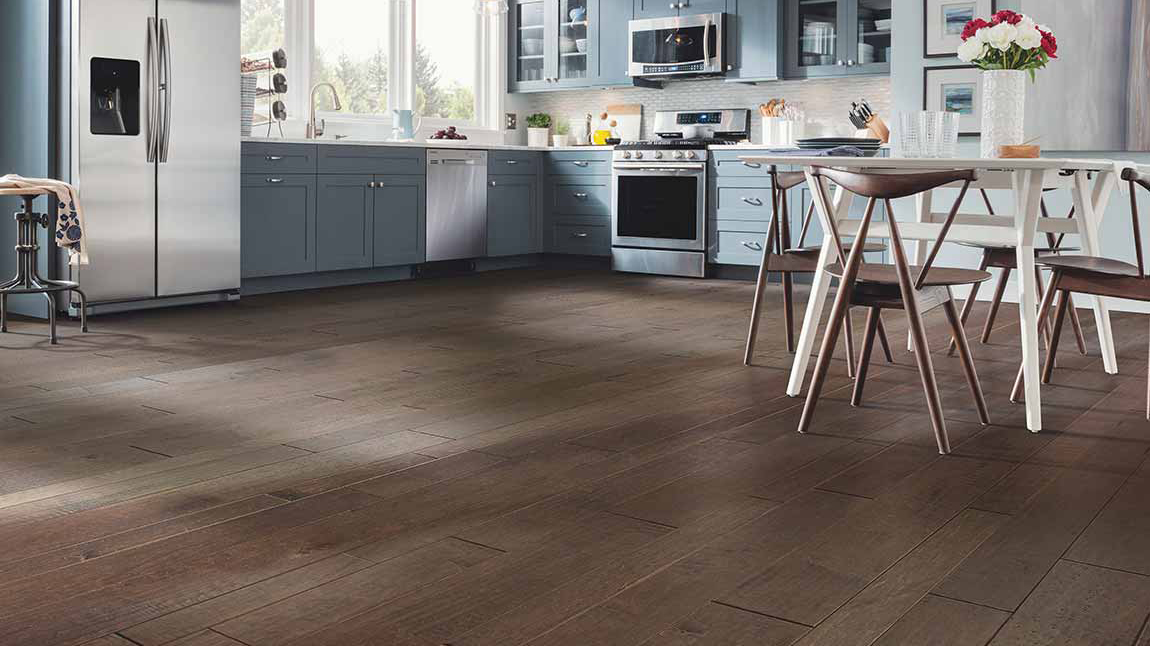 Solid Vs. Engineered Hardwood
With our extensive buying power, we have a wide variety of hardwood floors available at affordable, budget-friendly prices, including solid and engineered hardwood flooring. No matter your budget for your home remodeling project, you can take advantage of our stock and enjoy stunning new hardwood floors. With so many options for grain patterns, finishes, and species to choose from, you may find the experience a bit overwhelming. That is why our flooring design professionals help you find the right choice for your home. You tell us about the room in question and the décor you have, and we'll provide you with a list of targeted options that match your needs. We aim to send you home with flooring that you will love, so we are happy to spend time describing our products and answering your questions. Learn more about our hardwood selection:
Solid hardwood flooring

is a traditional style of wood floors where each plank is made from a single, solid piece of wood. Each plank is typically ¾ inch thick and made entirely of premium hardwood. Since it's completely solid throughout, you can often sand and refinish your solid hardwood floors to meet your ever-changing style needs. This eliminates scratches, stains, dents, and other imperfections. While solid hardwood is a beautiful flooring, it can be susceptible to warping in humid or moisture-prone environments. Due to this, we recommend installing your solid hardwood flooring in above-grade and non-moisture-prone rooms. Ensure your home has proper humidity levels through the dry winter months, so planks don't become brittle and prone to gapping and cracking.

Engineered hardwood flooring

is created from laminate layers. This layered design adds stability and prevents the wood from warping from moisture and humidity exposure. A real hardwood veneer at the surface, meaning engineered and solid hardwood looks identical from above. This type of hardwood is more affordable and durable. The only disadvantage to engineered hardwood is you can't usually sand and refinish as often as solid wood. This depends on the quality and thickness of its top layer.
Hardwood Flooring's Many Benefits
Hardwood offers many benefits that help improve the value of your home and the quality of your life. When you purchase hardwood flooring from us, you're investing in a quality product from some of the industry's best brands, including Aquadura H2O, Baroque Flooring, Downs, Spotlight Values, Mannington, Mohawk, Shaw Floors, and many more. Learn more about our hardwood flooring selection's great benefits:
Enhances the look and feel of your home by adding

a touch of elegance

.

Low maintenance and

easy to keep clean

.

Adds value

to your home.

Solid

and

durable

, meaning it can last for decades and is an excellent

long-term investment

.

Helps improve interior

air quality

.

Looks

great with any decor

style.

Comes in

various appearances

, colors, styles, stains, and species.

Improves acoustics

in your space.
Keeping Your Hardwood Floors Like New
It's important to give your hardwood floors the proper care they need to maintain their like-new shine. You can prolong the life of your hardwood flooring by following a few simple steps:
Sweep and dry mop regularly.

Put down rugs on high-impact spots and areas exposed to a lot of foot traffic.

Maintain moisture levels by installing a humidifier in the winter and a dehumidifier in the summer. This helps prevent the wood planks from warping.

Damp mop your wood floors with a little soap and water or a wood-specific cleaning solution for a deeper clean.

If you want your hardwood floors to be extra shiny, you can purchase a wood polish that can be used every 2-4 months.

Professional Hardwood Floor Refinishing
Hardwood flooring is strong, but wear and tear take its toll on every floor, creating the need for regular maintenance. We are happy to provide this through expert hardwood floor refinishing. We even fix flooring bought from other stores because our locally-owned business believes in good customer service no matter what! This saves you time and money and spares you from having to replace your floor prematurely.
The Halpin's Flooring America team works with solid, engineered, and hand-scraped wood floors in planks and strips. Our solid hardwood planks can be resurfaced up to 10 times, offering plenty of redecorating opportunities. We can even do hardwood floor restoration in addition to refinishing so you can have that clean and aesthetically pleasing floor you desire. Call us today to bring our impressive and highly visible results to your home.
Professional Hardwood Flooring Installation Services
You can rely on our professionals for your hardwood flooring installation to get the most longevity out of your new floors. We complete each installation with precision and care. Our professional installers have the skills, knowledge, and experience to ensure your hardwood floors are installed correctly. Reach out to our team to learn more about the techniques we use for installing your brand-new, gorgeous hardwood floors.
Walk with confidence on your new hardwood floors. We believe in our team of in-house installers and our products so much that we support your purchase with our Ultimate Confidence Guarantee. This guarantee is our promise to you of a quality installation. If you are unhappy with your new floors, we will replace them at no cost to you within 30 days of installation, providing a product of a similar price. We are committed to helping your design aspirations come to life and will find the hardwood floor to match.


Contact us to learn more about our hardwood flooring selection and services. We proudly serve customers in Prairieville, LA, and the surrounding communities.