Carpet Flooring in Prairieville, LA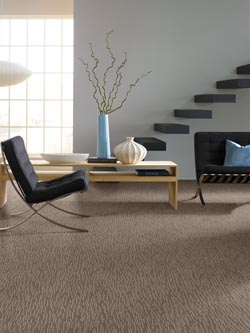 Are you looking for a simple, yet effective, way to make your home warmer and more inviting? Carpet flooring in Baton Rouge, LA will bring a fresh, welcoming atmosphere to your home's interior. Installing just the right carpeting in your living area, bedroom, or anywhere in your home will transform your entire household and make it feel as fresh and new as the day you moved in.
We take pride in offering a wide range of beautiful, affordable flooring that will represent your needs and personality. Stop by our locally owned and operated store to find just the right carpeting that suits your specific style and taste. Regardless of your design preference, you are sure to find a carpeting option that will complement your living space.
The sales specialists in our showroom are flooring experts. We consider individual décor choices, learn about your lifestyle, and teach you about your material options. Visit our showroom to find carpet flooring that you will love.
Why Consider Carpeting for Your Home?
Current home carpeting is a much higher quality than in the past. Manufacturing techniques have dramatically improved and the consumer is the beneficiary. New carpet installation keeps your home comfortable, stain-free, and warm for years to come. More and more customers are choosing carpeting because it offers the following advantages:
Safer for Young Children Because it Softens Falls
Manufactured to Be Stain-Resistant
Can Come in Any Color Combination
Made from Environmentally Friendly Materials with Lower Carbon Emissions Than Older Carpeting
Noise Reduction Especially for Multilevel Homes
Constructed from Your Preferred Material, Such as Wool
Purchased in Styles Made Specifically to Handle High Foot Traffic
Affordable for Every Price Point
Long-Lasting Compared to Older Styles
Easy to Maintain and Renew with Professional Carpet Cleaning
Fully Installed in Just a Few Short Hours
A Neutral Backdrop or a Statement Piece
Cost is a major consideration when purchasing carpet for your home. Buying carpet at wholesale prices allows you to pay just a small fraction of the cost that you would pay when buying from most retail stores. When wholesale companies buy carpeting products, they usually pay factory-direct costs and then sell the carpeting to business persons such as contractors and interior designers. When you buy carpet wholesale from us, you bypass the "middleman" in the deal, so we pass the savings directly on to you.
Berber Carpet - Classic Carpeting for the Ages
A popular carpeting choice for generations, Berber carpet with its loop piling offers a variety of benefits. It comes in a huge assortment of textures and colors, all available at very reasonable prices. Berber carpet's looping makes it easy to clean. Most spills sit on its surface, allowing you to clean them up before they sink into the fibers. Multi-colored Berber is also good for masking soils and stains.
Once found mainly in home basements, Berber carpeting is now seen throughout the home because of its casual, inviting look combined with a full, comfortable feel. Solid-colored Berber carpeting also provides a relaxing atmosphere for more formal areas such as living rooms.
Top-Quality Brands Available at Our Carpet Store
Our commitment to customer service and quality flooring means we are continually adding new stock and carpeting options to the ever-expanding showroom at our carpet store. A range of materials and styles are available in many name-brand options.
Our carpeting specialists are here to help you find whatever you are looking for. Let us know your expectations so that a sales specialist can direct you to the carpeting that best meets your needs. We offer all of the following name brands:
Bedford Mills
Design Distinctions
Downs
Hearth & Home
Home Craft
Innovia™
Innovia™ Touch
Resista®
Just Shorn®
Stainmaster®
Tigressa®
Tigressa® SoftStyle
Tigressa® Cherish
Mohawk®
Shaw®
Carpet Installation from Our Flooring Experts
Once we have helped you find quality carpeting that suits your needs, only part of our job is done. Count on us to continue helping you protect your investment with our professional carpet installation services
Professional installation involves adding a layer of padding, stretching the carpet, and hiding any seams. Our carpeting specialists have many years of experience in this area and provide quality installation that lets you and your family enjoy your carpeting investment for many years to come.

Contact us today to book your free in-home estimate concerning carpet flooring for your home. We proudly serve the communities of Baton Rouge, Prairieville, and Galvez, LA.